Termination, Passing, Finality, The End
The great unknown is death. We do not know when or what if anything follows. Of course, I would suggest

you can know with certainty what follows

. The emphasis here is on the statistics of death broken down by age and the cause of death. One of those causes is accidental death and that is further broken down by the type of accident.
There are few surprises in the data. 84.9% of the people die between 55 and 85+. Saying this in reverse is a little more surprising, that is, only 15.1% of the people die before 55 years.
The percentages of deaths from 55 forward are:

55-64 ………… 10.0% Just a little worse than 45-54 (nearly 7%)
65-74 ………… 18.4% Starting to lose folks
75-84 ………… 29.1% The big drop-off
85+ ……………. 27.4% Lots of people, almost 30% survive to 85+



Heart attacks as the cause of death remains well in the lead over cancer by almost two to one. This puts great emphasis on eating correctly and exercise as prime factors in extending your life. Alcohol and tobacco simply have no place for those who want to make it to the 85+ group.
Of course there are many things which we cannot control but that should not stop us from doing the right things to prolong our life. Doctor visits, routine check-ups especially blood work and the correct diet should be priorities. Find a physician who specializes in health care for those over 55 or in the diseases that are prevalent for that age group and has a real concern to help you meet your goals.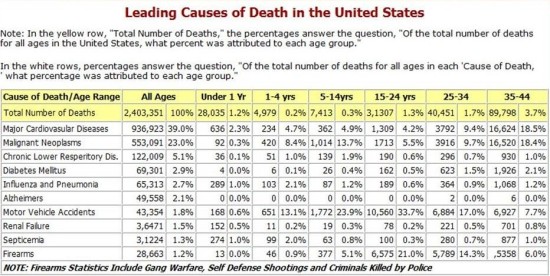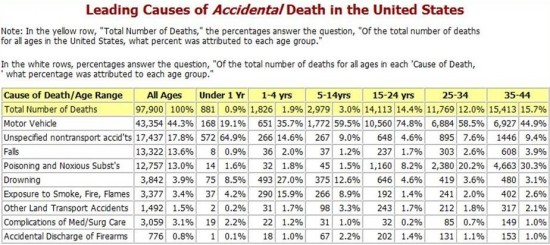 Source: Leading Causes of Death in the United States As compiled from data reported by the National Vital Statistics Report, Vol. 50, No. 15, September 16, 2002